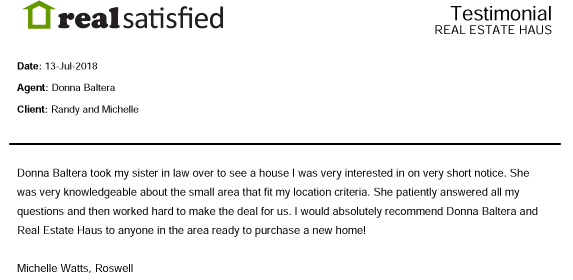 ---
"Donna was introduced to us by our friend and real estate broker in the Dallas area. We spent an entire day with her going through the neighborhoods of New Braunfels. She was very patient with us and seemed to quickly grasp an understanding of our needs/wants. She is very easy to work with and we enjoyed the process immensely. I would highly recommend Donna for your New Braunfels real estate needs."
---

"Donna Baltera is one of the very best Realtors in New Braunfels. She works very hard for her clients. She is extremely knowledgeable and knows the area better than anyone. She advises clients how to get the very best deal on the best available property. In our case, she has been fantastic at finding the right land and providing her clients with contact info for vetted builders in the area. We can't recommend her highly enough"
---
Donna Baltera;
Donna Baltera of Real Estate Haus is a diligent professional who was able to make our sales transaction occur quickly and smoothly. We would recommend Real Estate Haus for all of your real estate needs!

Derham and Kate Patterson
New Braunfels, Texas
---
Lynda Escalante:
Thank you Lynda,

I know they enjoyed you and you should know of all the agents I spoke with
you shined above the best!

Thank you for taking care of my friends/clients Mr. and Mrs. Larry Lane.

Fondly,

TEXDotLogo signWPM-logo web small

Dorothy J. Wanko, Broker/Owner

"Dottie" - from Start to Finish!

TEXdot Realtors, Inc.
---
Donna Baltera;
Donna Baltera is by far and away the best real estate agent/broker we have ever worked with. Being out-of-state buyers, her keen knowledge of the market, dedication to accommodating and serving our needs, and patience made for a very pleasurable and stress-free experience. We are extremely happy with our future home and give The Real Estate Haus our highest recommendation for serving your real estate needs.
Clifford and Nancy Threm
Crescent City, CA
---
When I met Donna, I knew she was a very experienced agent. She intuitively found us our dream house within a matter of weeks. Top notch.
Mark Tokach guitarist at Charlie Robison Band
Sent from my iPhone
---
My husband and I were looking for property in the River Chase
Subdivision when we met Donna Baltera. We had just been out bid on
another piece of property and we were very disappointed. We told Donna
what we were looking for and that very day she found us the lot. She
knows her business and operates in the most professional manner.
I recommend Donna to anyone who is looking for a Realtor who will
honestly listen to their wants and needs and then deliver. She is #1 in
our eyes.

Leon and Theresa Apostolo
---
Donna and the folks at Real Estate Haus did a great job for us. They were thorough, professional, friendly, and responsive. Best of all, they got results!
Karen & Jerry Hendon
---
"While we are sorry we had to sell our Hill country property, we
appreciate that we had someone like Donna to work with. It made things
much easier. We never worried that it wouldn't get sold.
Should we decide to buy in the Hill Country, at a future date, Donna
will be the first to know..."

Jim & Lori Glovier
Kennedale, Texas
---

                        Donna,    Thank you for everything.  You are a great realtor and a fine human being.  Greg and I consider you a friend and want to continue that relationship.        Fondly,  Celeste  Greg & Celeste MacDonell  
---

Lynda Escalante,

"It was our lucky day when Don and I stopped into your office to inquire
about homes in River Chase. Your knowledge and professionalism made it
clear that we had found the area we liked and the Realtor to help us.
Many thanks for all your help in purchasing our new home, in getting to
learn the area and many thanks for your wonderful gifts of the fire
extinguisher and door mat - both needed! See you in the neighborhood!

Pat F."
---
Donna

Recently, we had the good fortune to meet Donna Baltera, Broker/Owner of
the Real Estate Haus. We found her to be thoughtful, knowledgeable, on
the ball, and just a delight to work with. Don't hesitate to call her--a
real person will answer the phone!

Two very satisfied customers,
Kaye Gulen
June Bourgeois
---
Donna is an extraordinary realtor. My family made an interstate move and we were very fortunate to be referred to her. We had a very short window of time to find a home and she gave up her weekend to drive us all over New Braunfels, showing us homes and guiding us on a tour of our new community. Not only did she help us find our dream house, but she helped us negotiate a great price.
We spent the better part of two days in and out of the car with her and I have to say, I've never had so much fun looking at houses! She was with us every step of the way and did a wonderful job keeping us informed about what was going on when we were in another state. She was available when we had questions and guided us through the whole home-buying process.

David & Julie Smith
---
We can't thank Donna enough for helping us with the sale of our home! From start to finish, you made the process smooth and pleasant. The assistance your team gives is helpful as well; we think your entire team is a great asset to your firm. Who else would have their team hurry to turn our lights on for a showing when we were not close enough to get there in time to do it ourselves! You all work as a team and it shows. The level of service you give your clients is extremely high, it made all the difference. Thank you for your time, commitment and of your heart - we greatly appreciate it!
Robert & Janell Pritzkau
---
Donna may not originally be from around here ;) but she certainly knows her Hill Country real estate. We were referred to Donna by a colleague who recommended that we talk to Donna and we are certainly glad that we did.

When we contacted Donna and told her that we were coming to the New Braunfels area on a "scouting" mission, and that we may not actually purchase a property in the short term, Donna did not hesitate to assure that she would be glad to show us around. Donna spent an entire day and a half showing us dozens of properties in a wide area around New Braunfels all the way to Canyon Lake. It did not take Donna long to hone in to what we were looking for, and as a result we found a wonderful property that we just could not pass up. We could not have done it without her.

Thank you so much, Donna
Steve & Cris
Houston, Tx
---
My husband and I were referred to Donna from a good friend of ours in Houston. To say that she is a professional, knowledgeable, and hard-working real estate broker, would be like telling you that ice is cold. Everyone knows that - ask around and all will agree that Donna is the best of the best in her field! But what they may not mention is that she is SO MUCH MORE! She's creative, intuitive, and has the ability to not only find you your dream home, but make you feel like you're actually "coming home" rather than "moving from home". I continually wonder how her I- phone doesn't explode due to data overload! She has a list of referrals from mortgage companies and doctors, to beauty salons and boutiques ( we women need that!) to help make your relocation as easy as it could possibly be. I call her my New Braunfels Yellow Pages.
Kim & Dave Wallis
---
Donna is a rock star of real estate. She took the time to help us find
the house in the area of New Braunfels that we were looking for, and as
soon as we decided to put an offer in, Donna hit the ground running to
close the deal in our best interests. Donna is a professional and a
pleasure to work with.

Thank you,
Steve & Cris
---
I just want to thank you again for all you did to help me sell Mom's house in Gruene. I'm so relieved to be finished with selling it and I couldn't have done it without all your patience and help.
Suzanne Gay
Smartest realtor ever. We are so blessed to work with you Donna! You know your stuff!!!
Lisa Allison
---
Your smile brings me joy, Donna ... Spending time with you and making a decision for the perfect home was unforgettable. You're the best at TX real estate! Thank you again and again for helping us and I hope you're going great!
Lisa Allison
---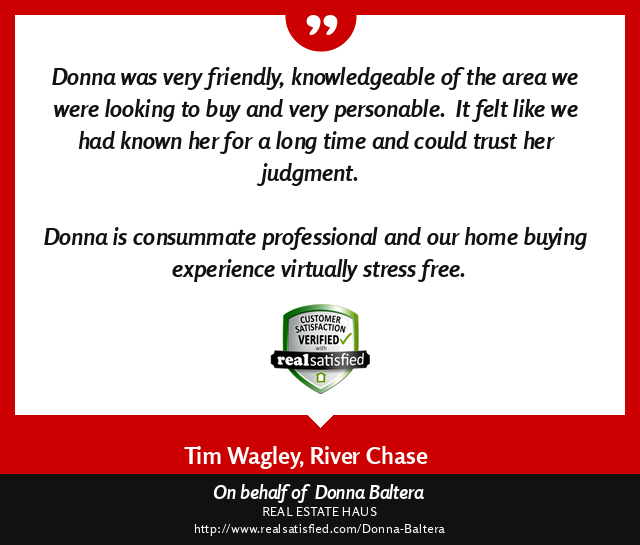 ---
"We looked at several parcels of land in River Chase. Donna showed us several parcels that matched what we wanted. Then,2 hrs. later we found a perfect match. She got the best price for us. Thanks Donna."
basketbkr
255 Legacy Hls, New Braunfels, TX 78132
---
"Donna is great to work with, I'll recommend her to friends"
Paul Williams
---
"Was so happy to have spoken with you today and told you that I FINALLY did it and became a real estate agent, all thanks to you. Joe and I both loved you beyond working with you...it was like hanging out with a hilarious friend every time you came over. I hope to leave that same impression on the people I interact with in this role.

Anyway, thank you for the support and encouragement you gave me back then - it stuck with me all these years.

You're the best!

Misty Hughes
Keller Williams"