History of Tifton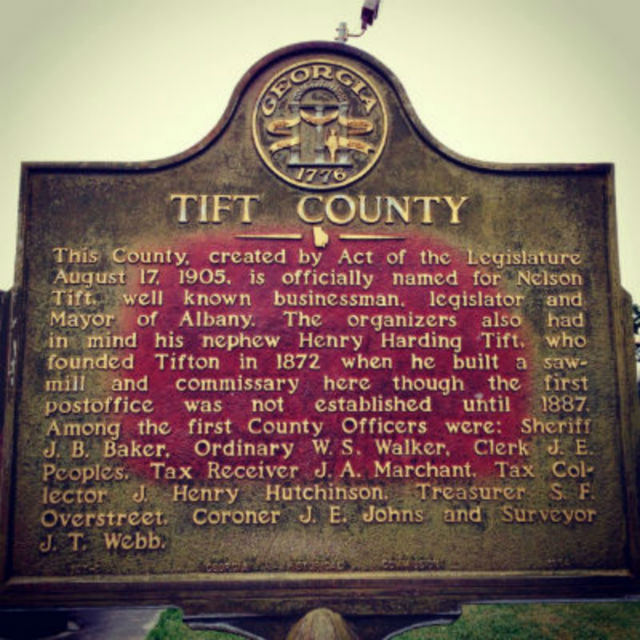 In 1869, Henry Harding Tift, having left Connecticut to join his uncle's business operations in South Georgia, saw opportunity and potential in the piney woods of present Tift County. A few years later, in 1872, he set up some lumber mill machinery, starting a sawmill beside a railroad. This area grew and on December 29, 1890, was incorporated as a city, Our 'Friendly City, " Tifton, was born.
A cotton mill started in 1900 and lead to further industrial growth, Tift County was created on Auguest 17, 1905, with Tifton as the County Seat.
Today Tifton has many national manufacturing plants producing a wide range of products including textiles, processed foods, farm implements, aluminum extrusion, automotive supplies and refrigeration equipment.
Through progress, growth, and involvement the citizens of Tifton and Tift County look forward to an exciting future.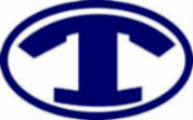 EDUCATION
The Tift County School District has a pre-K center, four primary schools, three elementary schools, two middle schools, one junior high school, one high school, and one alternative school.
Preschools
Tift County Pre-K Center (old Annie Belle Clark Primary School building)
Primary (K-3)
G.O Bailey Primary School
Len Lastinger Primary School
Northside Primary School
Annie Belle Clark Primary School
Elementary schools
Charles Spencer Elementary School (4-5th grade)
Matt Wilson Elementary School (4-5th grade)
Omega Elementary School (located in Omega, K-5th grade)
Middle schools
Eighth Street Middle School (7th and 8th Grade grade)
JT Reddick Middle School (6th
Junior high schools
Northeast Campus, Tift County High School (9th grade)
High schools
Tift County High School (10-12th grades)
Alternative schools
Sixth Street Academy (9-12th grade)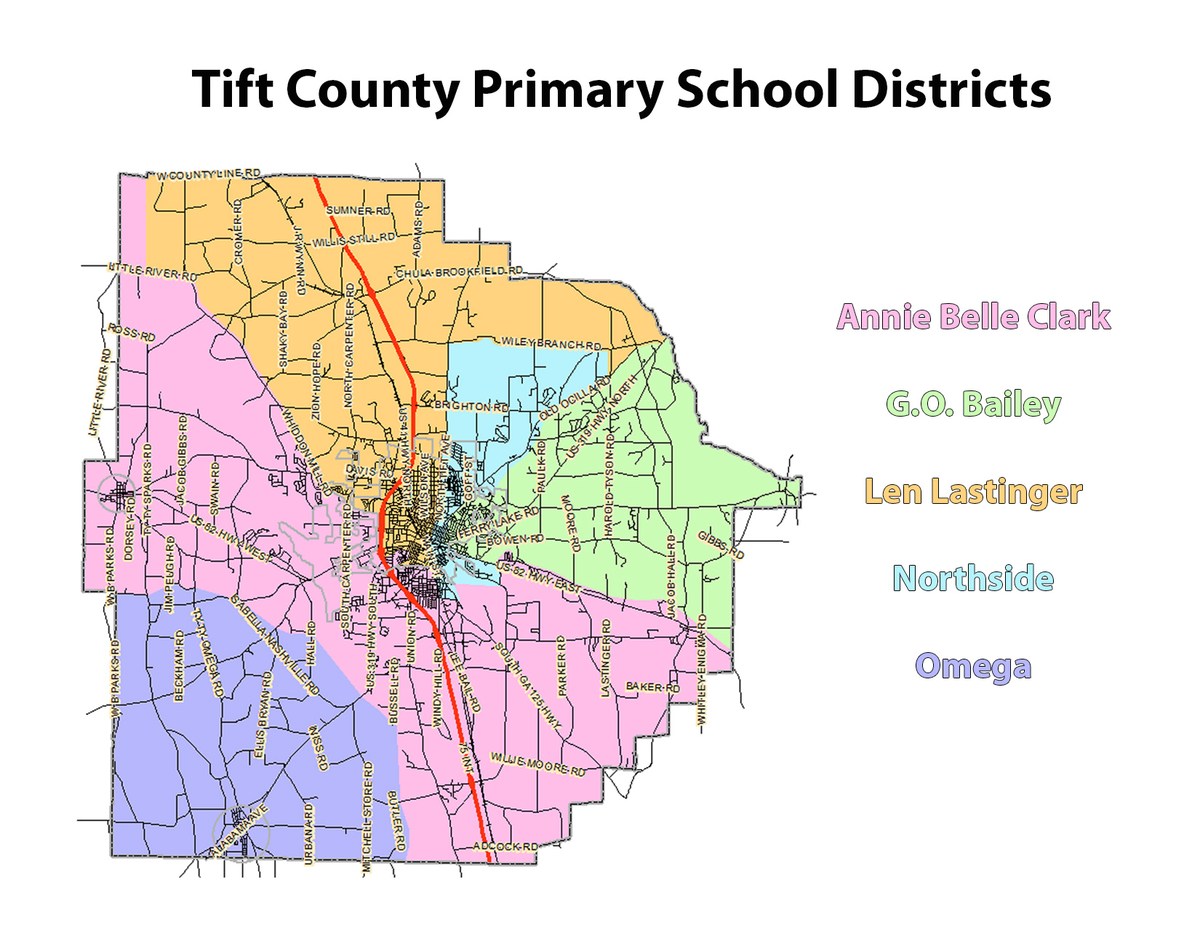 CHURCHES
For a list of local churches please visit: http://tifton.areaconnect.com/churches.htm
Recreation
http://www.tiftcounty.org/departmentHome.php?dp=2
http://www.exploregeorgia.org/listing/3528-paradise-public-fishing-area
http://www.exploregeorgia.org/listing/1837-fulwood-park
http://www.springhillcountryclub.com/
http://www.exploregeorgia.org/listing/1777-forest-lakes-golf-club
http://www.thegolfnexus.com/golf-course/4725/Sunsweet%20Hills%20Golf%20Club
http://www.bowling2u.com/centers/find_detail.asp?ID=3439
http://www.fandango.com/carmiketiftonmall6_aajsm/theaterpage
http://www.city-data.com/articles/Tifton-Mall-Tifton-GA-Small-Town-Mall.html
http://gastateparks.org/JeffersonDavis
http://www.fulwoodgardencenter.com/
http://www.discoverourtown.com/GA/Tifton/Attractions/magnolia-tree-park/59703.html
http://www.tifton.net/about-tifton/myon-hotel/
Medical Community