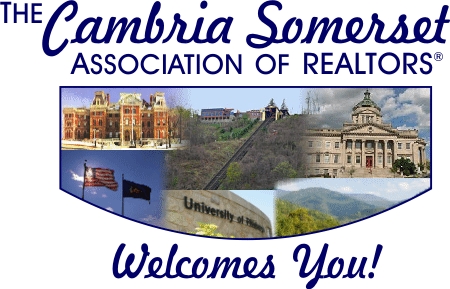 Serving Realtors in Cambria and Somerset Counties
Market Data from the Cambria Somerset Association of REALTORS® MLS for June 2019
In June there were 223 new listings added to the MLS. The median sold price of home sold in June was $88,000 and the average sales price was $103,871. The average days on market for properties sold in June was just 69 days or a little over 3 months.
Breaking it down by our two main counties Cambria County had 141 new listings in June. Looking at sales we see the median sales price was $87,450 and the average sales price was $106,383. The properties that sold in June spent an average of 64 days on the market.
In looking at Somerset County, the more rural of the two counties, we see 73 new properties listed in June. Days on market for those properties sold in June were slightly higher than the overall MLS at 78 days. The median sold price in Somerset County for June was $92,000 with an average sold price at $94,430.
All data is provided by the Cambria Somerset Association of REALTORS and is deemed acurate but is not guaranteed.
CSAR Annual Golf Social
Thursday, August 15, 2019
Indian Lake Golf Course
Indian Lake Golf Club (formerly the Private Golf Course)
1772 Peninsula Dr, Central City
10:00 am registration and lunch
11:00 Shotgun Start
CSAR invites you to be a part of our Annual Golf Social. We are supporting three charities this year.
· Ronald McDonald House—Rooms for Ronald
· Branches of Mercy—Necessities Closet
· Cambria County Backpack Project
Check our Facebook page for details or email the office.
The Cambria Somerset Association of REALTORS® is the voice for real estate in Cambria and Somerset Counties.
www.REALTOR.org/RealtorBenefits
---
Be sure to visit youtube and check out Realtor® videos
Follow the link below to view The Voice for Real Estate
http://www.realtor.org/videos/the-voice-for-real-estate