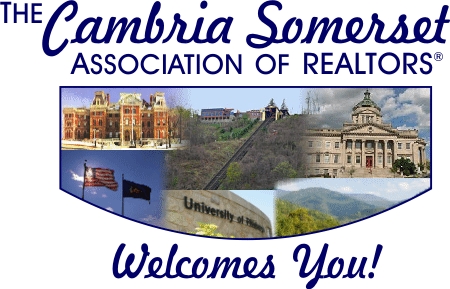 Serving Realtors in Cambria and Somerset Counties
RPR Market Data Snapshot for Cambria and Somerset Counties January 1, 2018 to June 30, 2018
There have been 752 new listings (reisdential, condo/townhouse and multi-family) in the CSAR MLS system this year as of June 30th. This is a decrease of 6.4% over last year but the average sales price is up 15.9% year-to-date. The average sales price for a home in our two counties was $108,092 and the median sales price was $88,892 both increases over this time last year showing an increase in home values. Closed sales so far in 2018 are 406, a slight decrease from 2017 year-to-date but the sales volume (cost) increased slightly.
Be sure to contact your local REALTOR for informaiton about your area. They are the best source of local home values because all real estate is local and they can provide you will a custom report of your home's value.
All data is provided by RPR through the Cambria Somerset Association of REALTORS and is deemed acurate but is not guaranteed.
CSAR will be collecting the following items through October 11th for the Boys and Girls Club of Somerset County, Inc. Feel free to drop items off at CSAR or any CSAR event such as the monthly Lunch and Learns.
BGC Wish List
Volunteers to help with homework & to talk about their job
Drinks (water bottles, juice boxes)
Plastic tubing
Wheels & propellers
Wire
Electrical components
Hardware
Wooden dowels
Gears & spools
Fasteners
Craft tubes
Wooden shapes
Foam shapes
Containers
Squishy circuits kits
Conductive dough
Dry erase makers
Shower board (Dry erase boards)
Brass Fasteners
Acrylic Paints
Sharpies
Glue Sticks
Electric pencil sharpener
File folders
Labels
Page Protectors
Laminator and laminating pages
Glue bottle refill
Card Stock (all colors)
Walmart gift cards
The Cambria Somerset Association of REALTORS® is the voice for real estate in Cambria and Somerset Counties.
www.REALTOR.org/RealtorBenefits
---
Be sure to visit youtube and check out Realtor® videos
Follow the link below to view The Voice for Real Estate
http://www.realtor.org/videos/the-voice-for-real-estate