Currently Displaying - Commercial Listings for (Results)
Viewing
1 - 13
of
13
Listing Result(s)
Description:
This 10 acre tract with beautiful large Live Oak trees is located just feet outside of the city limits. an asphalt drive meanders to a large metal building with paved parking for the 3840 sq. ft. metal building . Previous used a restaurant-bar called THE OAKS, the current floor plan included private dining, open dining, bar, kitchen, storage, bathrooms, office , freezers and coolers. Remove temporary walls and you have a great open space for a play gym for kids ( the acreage for a racetrack) , or put up walls and you have an air controlled storage facility. Great location for bar! Crank up the music and have a parking lot dance! No restrictions Janet Rabe DiMaggio, Listing Broker Rabe Real Estate, LLC 361-358-1255 or 361-542-1903
Description:
Located just outside the city limits, this property is adorned with beautiful Live Oak trees and its own water well!!!!!.Asphalt drive meanders to large metal building with paved parking. Large metal building with high ceilings.Take down the few half walls and you now have an entire open space for what ever you want! The building has an extensive venting system ( Smoke Eater). Great location for climate controlled storage, sports bar, or turn it back into a great steak restaurant and bar. Lots of options. Janet DiMaggio Listing Broker Rabe Real Estate, LLC 361-358-1255 or 361-542-1903
Description:
Was once the Old Hueglers Store. Large expansive rooms for warehouse, machine shop, storage, etc. Lots of parking area. Listing Agent- Richard Rabe- W- 361-358-1255, C- 361-319-1027
Description:
Conveniently located only 1.5 miles South of the intersection of FM 673 & Hwy 72, this property is only about 1 block off of Hwy 72. It is 14.73 acres with covered work area approx 4900 sf with 6" slab, and used as a Truck yard with 11 (12'x60') 3 bedroom mobile homes used as living quarters for drivers. Modular office building 24'x55' with ' x' deck. 4 water wells, 2 underground storm shelters, and large parking area for trucks.
Description:
This building is located on a highly visible corner lot: several blocks from Christus Spohn Hospital, near IBC Bank, Subway, Charro's restaurant, Stripes convenience store, and others. Houston Street is also known as US Hwy 59, the only U.S. highway going through Beeville. The older building consists of about 3000 square feet. Two small buildings are also included: one in back, is currently leased as a boutique and another building on the west side, currently leased as a massage shop. The lot is 110 x 154.6. The parking lot is located on the west side of the property. This listing is a rare offering in that there are so few properties that become available on this busy highway, near the hospital.
Description:
Great Commercial Location right in the Hub of an Expanding Business District. This Commercial Building is currently being used as a Hair Salon with an Area of Approx 800 Sq Ft and another Separate Business with a Working Area of Approx 400 Sq Ft. Extra Amenities Include, a Small Kitchen, Five Storage Rooms (approx 900 sq ft) and Decked Attic Storage (approx 500 sq ft) with Pull Down Stairs, High Efficiency Three Phrase Central AC Unit, Newer Electrical Wiring, and Copper Plumbing. Also, this Property comes with 14 Paved Parking Spaces, a Lighted Marquee, and the Property is Handicapped Accessible. Great Opportunity for a New Business!
Description:
For Sale or Lease Medical Clinic currently a Dental office has 1 restroom, plumbing in most all rooms New roof 2019. Good front asphalt parking for small practice. The furniture, fixtures, and equipment do not convey with the property; Dr.. Meyer will consider leasing the 1220 sq. ft. (BCAD) space for $1, 500 mo. base year
Description:
Outstanding building and outstanding location. This property is located on a 150x150 foot lot (0.5170 of an acre) and has great visibility and is approx. 1/2 block from the traffic light. This street is highly traveled and has easy access to business 181 and highway 181. The building is being used as a Hair Salon but could easily be converted to any business you desire. The property has plenty of concrete parking and plenty of space for additional parking as needed. The building as been redesigned and updated to meet the owners business demand. There is lots of potential for any type of business you may want to do on this property.
Description:
Corner lot, good commercial location across from A.C. Jones High School. Building recently remodeled inside w/ 2, 400 square feet. Lot size .57 Near Sonic, AC Jones, K-Bobs, & WalMart Supercenter. This property has access from Adams St. & Trojan Drive. High traffic volume, this has so many possibilities for a new business! Currently being rented as a gym.
Description:
PRICE REDUCTION and Great SELLER FINANCING! This Building is best known as The Rio Theater, but was one of the first brick buildings to be erected in Beeville circa late 1890's. Originally was Smith's dry goods and hardware store.The first floor has a small office after exiting the foyer and leads into an open space when once seating and movie screen was located. His/hers restrooms, concession area with storage and long balcony along the east of ground floor. Windows boarded up but saved windows for re-installation. Second floor has an office or can be an apartment. the back section of building collapsed due to weight and water penetration. C A/H for apartment only. Two sheds and a shared easement to access the business alley. Needs major renovations and most value is in the land and location.subject to easement agreement in the back side of property. SELLER FINANCING AVAILABLE with $25, 000 down, 1st lien note 6.0% interest 20 years, MP as low as $895.54 PI + TI
Description:
Conveniently located on Highway 181 N Frontage Rd. between FM 351 & FM 3355 ( Charco Rd). Approx. 2.5 miles from intersection of two major highways, US Highway 181 & US Highway 59. Within minutes of Coastal Bend College, Walmart, & newer hotel. Nice rectangular-shaped lot, mostly clear, level terrain.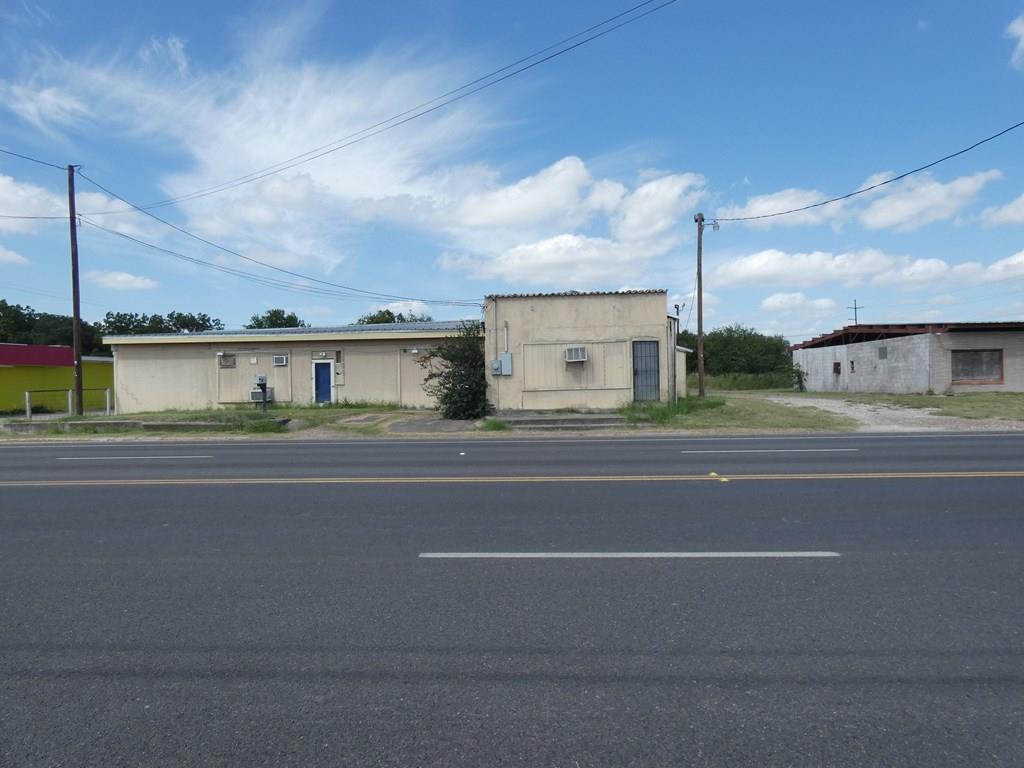 Description:
This a good commercial location for a business and has plenty of parking on the back of the building.
Description:
Investor Deal! The possibilities of this large property are endless! This property features 5, 291 square feet of living space situated on 7 lots. Imagine what you can do with all the living and lot space. This brick property includes 5 bedrooms and 3 bathrooms along with generous amounts of living and common areas throughout. Outside you will enjoy a covered porch and above-ground pool area, greenhouse, and rock garden. This property features a new roof about 1.5 years old. Property has 2 central heat units inside and air ducts, no outside units. This property is being sold AS-IS.