Mission Statement
Greater Portsmouth Area Board of Realtors®
MISSION: To be a valuable partner to our members by advocating professionalism, championing the value of property ownership, providing educational opportunities, providing state fo the art cost effective tools, sharing accurate and timely information, being an active and involved member of the communities we serve, and upholding the Realtor's Code of Ethics.
VISION
VISION: To be the trusted voice and the primary professional resource for real estate in the communities we serve.
---
Portsmouth is the gateway to Scioto County and South Central Ohio located in Scioto County, on the beautiful Ohio River. Portsmouth was carefully laid out where the Scioto and Ohio Rivers meet. Portsmouth serves as a major hub to railways and water transportation.
The Greater Portsmouth Area has an outstanding variety of arts and cultural activities to enjoy. One exceptional display of art in our area is in historic Boneyfiddle downtown district the Floodwall Murals. Painting began in 1993 and was completed in October 2002 with over 2200 feet of art along the beautiful Ohio River. Many of the murals are 3-D and it feels as though you can "step into" them. All of the murals were painted by internationally know muralist, Robert Dafford from Lafayette, Louisiana. The Vern Riffe Center for the Arts hosts national touring productions as well as region and local artists and productions.
Once here, you will find the beautiful mountain scenery, friendly neighbors and heritage enchanting.
Whether you are an area native searching for your perfect house, thinking of relocating here, or are just looking for that investment property, one of our REALTOR® professionals can assist you.
Feel free to search our information for an agent to assist you in finding just the right place to call home.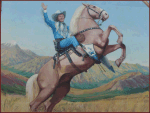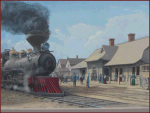 Mural photos courtesy of the Portsmouth Area Chamber of Commerce