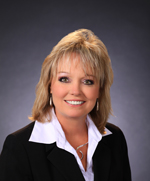 Lydia Scudder
Lydia has been a Licensed Texas Realtor since 2007. She has West Texas roots and works most of the Permian Basin, i.e. Midland, Odessa, Andrews, Monahans and everything in between.
She has been an active participant with the Permian Basin Board of Realtors. President - 2016 Vice President - 2015 Secr/Treas - 2014 Director - 2010 to 2013
She has been honored by her peers with Rookie of the Year and Realtor of the Year awards. Lydia graduated from the Texas Realtor Leadership Program in 2010.
Married to Kenny and together they have 3 children and 4 spoiled grandchildren. Her favorite hobbies are deep sea fishing and playing golf. Life is Good!!
Lydia is honest, caring and lives by the Realtor Code of Ethics. Building a trusting relationship with her clients is essential. Buying or Selling is serious business and Lydia takes it seriously, all the while making the transaction a fun experience!!
Lydia Scudder
Realtor Associate
432-853-2200
lscudder@legacyrealestate.com