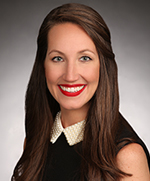 Amy Turman
HOW SHE LANDED IN MIDLAND
Amy Turman was born and raised in Dallas, Texas. Her move from Highland Park High School to Texas Christian University was the beginning of a more than 10-year procession heading west…ultimately landing in Midland in 2013. Before starting a family, Amy was an associate editor at D Magazine and Editor-in-Chief at Fort Worth, Texas magazine. Once it was revealed that she and her husband, Philip, would be expecting their firstborn in September 2009, Amy made the difficult decision to hang up her writing hat and dedicate herself to being a stay-at-home mother. Almost six years later, she was ready to re-enter the workforce - this time as a real estate agent. Growing up as the daughter of a commercial real estate broker, Amy spent her weekends driving the family Suburban across property for sale as her father examined its viability. Soon after, her father was schooling her on telecommunication towers, shopping centers and other investment properties. Her mother, who is equally real estate savvy, would bring Amy along as she evaluated the move-in and move-out condition of several lease properties. There was no getting around it; a passion for real estate was so tightly woven into her fiber that it seemed impossible to unravel it.
HER MISSION
Amy intends to use that passion and excitement for real estate to help her clients navigate the home-buying process and to make it an enjoyable experience. She doesn't want to just represent her clients; she wants to help them be better educated buyers and sellers. Her time as an editor not only constructed an eagle eye for detail, but also experience in marketing and advertising that is invaluable to sellers.
HER PERSONAL LIFE
Amy is married to her college sweetheart, Philip Turman, and together they have two children: Charlotte, 2 and Hunter, 6. The Turman family set root in MaMar Terrace and plans to never uproot so long as their neighbors stay put! Amy is on the Public Relations Committee of The Junior League of Midland, Inc. and attends Golf Course Road Church of Christ. Philip is a landman at Endeavor Energy Resources, LP and a member of the PBLA and AAPL. As a family, the Turmans enjoy spending time at Lake Athens in East Texas and Lake Austin. Amy enjoys painting, her book club, gardening, Interior Design, and spending time outdoors with her family doing just about anything.
She looks forward to finding your dreams a home!
Amy Turman
Realtor Associate
817-707-1020
aturman@legacyrealestate.com/a>