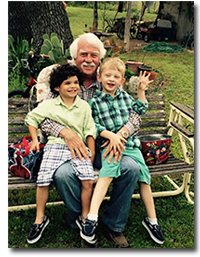 Welcome to my website! Whether you are in the market to buy or sell property, you've come to the right place.
Born in Texas and grew up in San Antonio, I attended Tarlton State College as will as the University of Texas. Proudly served our country in the U S Marines. My lovely wife Brenda Hild and I have three lovely children and 7 grandchildren ranging in ages 5 to 29. Brenda and I love the Hill Country and have taken an active role in our community.
I have taken an active role in our real estate community as well, serving as Vice President, President and Director for the Central Hill Country Board of Realtors. I am also a graduate of the Chamber of Commerce Leadership class of 2005/2006 and in 2010 graduated from the Texas State Leadership class.
My first career was 35 years in corporate America as well as internationally in the Toy Industry, with a long term relationship with Mattel and then my own showroom at the Dallas Trade Center. Sold this business in 1990.
During this time Brenda and I had bought a farm in Fredericksburg and moved here permanently in 1994. My interest in real estate lead me to obtaining my Real Estate license in 1985 and then Broker's license in 2008.
My experience in property is not only as a Realtor, but as a land owner who is familiar with agricultural exemptions, farming/ranching, and 1031 exchanges.
Let me help you to become a part of this community whether it is land, farm and ranch, or a home in town. I will help you obtain your place here in the Hill Country.

Texas Real Estate Commission Consumer Notice
Information About Brokerage Services