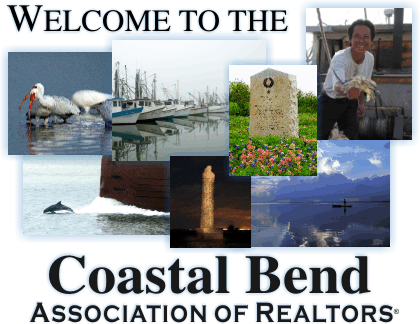 Welcome to our website! Whether you are in the market to buy or sell property, you've come to the right place. We invite you to use this site to search for your next Single Family Home, Condominium, Townhouse, Land, or Commercial real estate purchase. To locate the property of your dreams, click the Property Search button.
About Calhoun County... A great place to work, live and play. Calhoun County provides an excellent climate and all the necessary ingredients for productive industrial operations. Some of the area employers in our county are; Alcoa, Formosa Plastics, Dow Chemicals (formerly Union Carbide), Seadrift Coke, B P Chemicals, and Dupont is only 20 miles north in Victoria County. We have the Victoria Barge Canal and the Port of Port Lavaca - Point Comfort, which is one of the busiest ports, and the fastest growing ports in the United States.
The subtropical climate, seaside community location and close-knit community feel, add to the charm and attraction of a family-oriented lifestyle.
An excellent public school system is in place as well as a variety of private and schools, and child care providers.
The recently remodeled Memorial Medical Center offers a state of the art medical facility, along with Memorial Medical Plaza, which contains a Wellness Fitness Center, Occupational Therapy, Physical Therapy, a Dialysis Center, physician's offices, and Home Health Care. Health care facilities available in Calhoun County are fully staffed and well equipped to serve the various medical needs of our residents. Just 26 miles north of Calhoun County lay Victoria County, where many specialists practice in the 3 area hospitals and numerous clinics. If excellent health care is a concern of yours, be assured that it is available to you and your family.
Calhoun County offers many recreational activities to fill your days. Water related events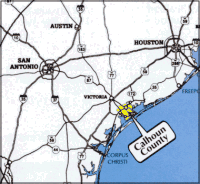 such as fishing, boating, water skiing, jet skiing, sailing, beach combing, and bird watching, just to name a few, are available to enjoy year round. Typically we enjoy 200 days of sunshine yearly!
Calhoun County is situated in the center of the 375-mile Texas Coast and is within a few hours of Houston, Corpus Christi, San Antonio, and our state capitol, Austin.
If you are contemplating relocating, or are just searching for a great vacation or get-a-way spot, you will find a treasure in Calhoun County!
Thank you for visiting!