Leadership Academy
RGA is a membership-driven organization, and the success is based on its members and dedicated leadership. The RGA Leadership Academy is designed to identify and provide a track for interested members who desire to be our leaders of tomorrow. As RGA continues to grow and thrive as a leader in our community, we want to provide our future leaders with the best educational opportunities to help direct our organization to its fullest potential There are six/seven sessions or events with varying topics for accepted applicants.
2023 Leadership Academy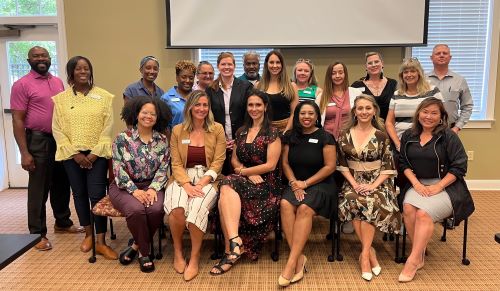 Pictured (L-R): RGA President Eric Crawford, Stephanie Clarke, Shantenet Winston, Tracy Beard, Brandy Sutton, Jaime Long, Stuart Brooks,
Rachel White, Lauren Word, Cassie Edgar, Laura Walker, Janet Mueller, Tim Turner, Brionna Barnes, Ehrin Fairey,
Tara McNaylor, Kimberly Handberry Barker, Kathy Gray, and Heather Ferrante.
(Not pictured: Ann Marie McManus, David Avery, Jr., and Christy Ervin)
Attendance is required at all sessions. If an applicant misses a session, he/she will be required to attend the same session in the next graduating class before graduating. Below are the session topics, dates and times.
| | |
| --- | --- |
| Session Dates | Session Topics |
| January 4 | Leadership & Training with Leigh Brown (Athens, GA) |
| February 8 | "Meet the Class" Luncheon |
| March 1 | Advocacy, "Days at the Dome" (Atlanta, GA) |
| May 17 | Association & Committee Oversight |
| June 27 | Marketing / Branding / Professionalism |
| June/July/August | Attend a local Commission, Planning & Zoning Meeting |
| September (TBD) | Diversity & Partnerships |
| November 7 | Accounting & Public Speaking |
| December 14 | Recognition at Association Luncheon for graduates |
Applications for the 2024 class will be available in the fall and due November 30, 2023.
Please click here to review the RGA 2023 Leadership Academy application.
Congratulations to our Inaugural Leadership Academy members for
their completion of the program!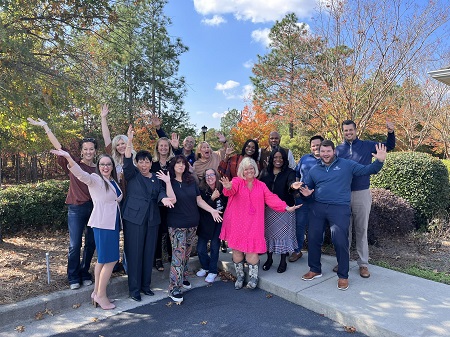 Pictured: (L:R) Brandi Ledford, Gerilyn deLaurentys, Liz Bragg, Pat Goodwin, Donatella Armstrong-Key, Jan Grazziffi,
Chuck Tolbert, Erin Slade, Heather Murray, Pam Lightsey, Porsha Beasley, Melvin Speight, Geneice McCoy,
Josh Keck, Matt Kelly, and Will Brooks. (not pictured: Rebecca Stuppard)