Leadership Academy
RGA is a membership-driven organization, and the success is based on its members and dedicated leadership. The RGA Leadership Academy is designed to identify and provide a track for interested members who desire to be our leaders of tomorrow.
As RGA continues to grow and thrive as a leader in our community, we want to provide our future leaders with the best educational opportunities to help direct our organization to its fullest potential There will be six/seven sessions or events with varying topics for accepted applicants.
2022 Inaugural Leadership Academy Members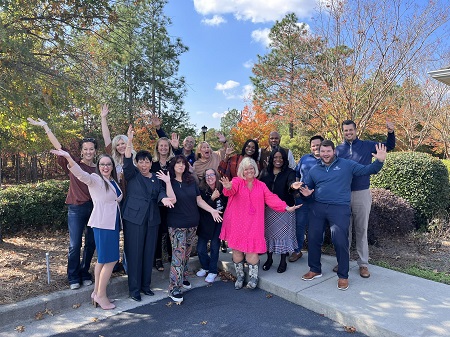 Congratulations to our Inaugural Leadership Academy members for their completion of the program!
Pictured: Brandi Ledford, Gerilyn deLaurentys, Liz Bragg, Pat Goodwin, Donatella Armstrong-Key, Jan Grazziffi,
Chuck Tolbert, Erin Slade, Heather Murray, Pam Lightsey, Porsha Beasley, Melvin Speight, Geneice McCoy,
Josh Keck, Matt Kelly, and Will Brooks. (not pictured: Rebecca Stuppard)
2023 Leadership Academy
Attendance is required at all sesssions. If an applicant misses a session, he'she will be required to attend the same session
in the next graduating class before graduating. Below are the session topics, dates and times.
| | |
| --- | --- |
| Session Dates | Session Topics |
| January 4 | Leadership & Training with Leigh Brown (Athens, GA) |
| March 1 | Advocacy, "Days at the Dome" (Atlanta, GA) |
| April (TBD) | Association & Committee Oversight |
| June/July | Attending a local Commission, Planning & Zoning Meeting |
| September (TBD) | Diversity & Partnerships |
| November (TBD) | Accounting & Public Speaking |
| December 14 | Recognition at Association Luncheon for graduates |
Applications for next year's class are now available and due by November 30, 2022.
Please click here to review the RGA 2023 Leadership Academy application.