Education Opportunities
*******************************
Earn CE Credit & Satisfy Your Code of Ethics Requirement in One Day
NC Association of REALTORS® is bringing back nationally recognized real estate educator Bruce Aydt for Professional Standards Training! This full day session will cover the foundation of the professional standards process, the latest changes to the Code of Ethics and the process of enforcing the Code. Along with high-level training for Hearing Panel Chairpersons, focus will also be placed on how to write a quality Findings of Fact. Register now!
Wilmington - March 9, 2015

Raleigh/Cary - March 10, 2015

Hickory - March 11, 2015

*******************************
DocuSign Advanced: Getting the Most Out of DocuSign for your Real Estate Business
Date:Wed. 11 Mar, 2015 10:00 am - 11:00 am
In this class REALTOR® and founder of the Real Estate Brokers Academy, Mark Saunders, will walk you through a transaction and show you all the features DocuSign has to offer. Some of the topics covered will include:
How to link cloud based services to your DocuSign account. IE Dropbox, Evernote, Google Drive etc

How to upload your own forms into DocuSign

How to set private pin numbers for your clients so you know the right person signs the form

How to automatically forward your form to other people once the form is signed. For example the closing attorney, the other agent, your assistant, etc.

How to set up automatic reminders for your clients to remind them to sign the form so you don't have to

How to track where your form is in the process and if your client has even seen the form

How to see where your client was when they signed the document and more
This webinar will be recorded and will be available for later viewing.
*******************************
Enjoy a full-day conference featuring top speakers and key tech providers from all over the country.
*******************************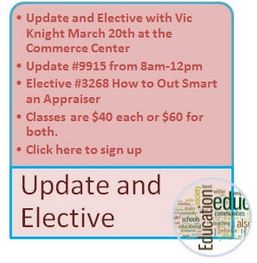 *******************************
Continuing education must be completed each annual license period between July 1 and June 10. No education is offered between June 11 and June 30.
North Carolina Real Estate Commission
Continuing Education Information
Your real estate license expires each June 30 unless properly renewed. If you let your license remain expired for more than six (6) months and subsequently request license reinstatement, the Commission may treat you as though you were never licensed and you may be required to take a substantial amount of education and/or pass the license examination.
Click here for BIC course info
Click here for CE class schedule
Click here for NCREC info