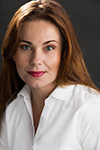 Alissa Spears
Owner/Broker
Alissa is a native of Australia and a graduate of the UNIVERSITY OF WESTERN SYDNEY, AUSTRALIA. Shortly after arriving in the United States, she obtained her Texas Real Estate License and began her real estate career.
She quickly became a "mover and a shaker" in the Rockport-Fulton community and volunteered her time and expertise for the Rockport-Fulton Chamber of Commerce. She was a "Bay Blazer" from 2000-2003 and recruited and welcomed new businesses to the Chamber family. She is a graduate of the Leadership Aransas County Class VI and continues to support the program by facilitating upcoming classes. You will see her volunteering throughout the year at Seafair, Rockport Art Festival, Oysterfest and more. As you can see she loves to contribute to the community in which she works and lives and is committed to helping non-profit organizations and their goals.
You will find her attending real estate seminars throughout the state to "keep her finger on the pulse of the industry and community". In 2002 she was appointed as secretary for the Rockport Area Association of Realtors for a two year term. In 2003 she became a Multi-Million Dollar Producer for Lynn Johnson Realty, Inc. and sold the Rockport Mobile Home Village in the largest transaction of her career. In December of 2003, she was inducted as Vice President of the Rockport Area Association of Realtors for 2004. It was also in this year that Alissa was awarded the coveted "Realtor of the Year" award for her hard work for her profession and community.
So, in 2005 Alissa has become the youngest President of the
Rockport Area Association of Realtors. She enjoys the challenge and looks forward to taking the Association to the next level with service and professionalism.
Alissa's personal goal as a Realtor, is to be the best that she can be, to be honest and forthright, to treat all as she wishes to be treated, to invest in her continuing education and to HAVE FUN!
"Simply Exceptional Service"
Give her a call at (361) 790-6585 and let her introduce you to Rockport-Fulton and the community she has grown to love and respect.
Texas law requires all license holders to provide the Information About Brokerage Services form to prospective clients.

---
Andrew Watson
Real Estate Agent
Andrew Watson brings an extensive appraisal background to his work as a real estate agent. He has experience with a wide range of property types, including farm and ranch, and a variety of commercial properties. Located in Boerne, just outside San Antonio, Andrew provides real estate services throughout the Texas Hill Country and South Texas brush country.
Want to speak to Andrew? Give him a call at 830-446-1521.
Texas law requires all license holders to provide the Information About Brokerage Services form to prospective clients.
---
Nelida (Neli) Spurrell
REALTOR®
Environmentalist


Nelida "Neli" Spurrell is a Forester Engineer by trade, but her passion is Real Estate! Born and raised in central south Brazil, Neli moved to Texas in 1999. It was then that she found her niche market in DFW Real Estate, helping buyers find affordable & efficient homes. After one fortuitous vacation in Rockport, Neli and he husband, David, decided that they loved the Coastal Bend and all it had to offer and left the big city for Rockport coastal life. Neli has successfully merged her passion for the Mission-Aransas estuarine habitats, with her love for Real Estate.
She volunteers when she can in many different organizations; as a master gardener, naturalist and as an 'earth keeper'.
Neli is a very unique realtor by being earth conscious and client conscious. She helps find homes for people and pollinators alike!
Call Neli at 214-597-8751 for all you real estate needs!
Texas law requires all license holders to provide the Information About Brokerage Services form to prospective clients.
---
Alina Allen-Sykes
Office Manager
Alina Allen-Sykes is a native of Virginia Beach, Virginia with a background in Real Estate, Restaurant Management, Vacation Rentals, Property Inspections, and Marketing. She has extensive hands on knowledge that allow her to think "out of the box." While her personality is often described as "straight and to the point" she definitely offers a lot to Spears & Company; organization, customer service, dedication, meeting deadlines, and always rising to meet a challenge there is nothing she won't work hard to accomplish. Alina offers kindness to everyone she meets and absolutely enjoys working with people. While she enjoys working with people her other passion has always been to help animals in need. During her free time you'll often find her rescuing abandoned and abused animals making sure they are bathed, fed, loved, and ready to find a more permanent home.
Moving to Rockport, Texas to embark on a new adventure she immediately fell in love with Rockport-Fulton's gorgeous surroundings and charm. Starting her residency here she assisted in opening Chili's in Rockport and worked as a Server/Bartender for three years before moving back to Virginia working as a Chili's manager and then in Property Inspections and Real Estate. Missing Rockport's "small town feel with a giant heart" she decided to move back. Since her return to this lovely town she has worked in Vacation Rental Management, has cleaned numerous properties, and since 2015 she has worked alongside Alissa Spears. Once settled into the position alongside Alissa she knew she did not want to work anywhere else. Alina loves the Real Estate industry and appreciates that no two days are alike. There is also a thrill knowing that there is always an opportunity to learn something new, but that she is also able to provide help with the knowledge she has already acquired over her expansive career.
If you ask Alina if she plans to ever become a REALTOR® her answer will always remain the same, "While I believe being a REALTOR® is both rewarding and exciting, I prefer to work behind the scenes assisting in the management of the Company. That's where my expertise lie and that's my passion."
---
Debbie Adams
Office Staff
Debbie Adams started as a REALTOR® in Virginia where she dominated the market. After traveling for awhile and then settling in Rockport, TX she decided to work full time as a Receptionist for a busy Real Estate Office formally known as Lynn Johnson Realty.
She not only maintained the companies files she also assisted all of their Agents and ensured the Company had excellent Client Care. She was adored by everyone she came into contact with. After working with the Company for many years she decided to retire and it wasn't until recently that she decided she missed Real Estate so much that she wanted to work part-time.
Now, on Saturdays you can find Debbie here at Spears & Co Real Estate assisting clients, answering phones, and completing office tasks. Sometimes you can even find her helping in the office during the week! We are happy to have her here and so are our clients!
---

Norm Spears
REALTOR®
Norman Spears, being a fourth generation resident, provides a local's perspective for Coastal Bend property and ranches. He grew up working cattle, hunting, and fishing in South Texas and became a guide from 1986 to 2009. Norman also has worked for Aransas County ISD since 1993 in technology and is currently the Director of Information Systems. Although he is not a full time REALTOR® at this time, he is eager to furnish local knowledge and quality service.
Texas law requires all license holders to provide the Information About Brokerage Services form to prospective clients.
---

Sarah Solis
REALTOR®
Texas law requires all license holders to provide the Information About Brokerage Services form to prospective clients.
---

Jannine Osborne
REALTOR®,
GRI, ABR®, SRS,
RSPS, e-PRO®, CTA
Texas law requires all license holders to provide the Information About Brokerage Services form to prospective clients.
---


Morgan Durbin
REALTOR®
From Boutique Boss to Real Estate rookie; Morgan Durbin is the latest addition to Spears and Company Real Estate. A natural entrepreneur, Morgan has always had a mind for business and a passion for pushing the envelope when it comes to creative marketing. Her transition into the Real Estate world has been quick once she made the decision to switch careers, and she has been on the road to success ever since.
Born and raised in Ingleside, Texas Morgan is an enthusiastic member of the community and enjoys spending time with family, riding her horses and hunting. Upon graduating high school she left the Coastal Bend and headed to Aggieland. There she got her degree in Agricultural Leadership and Development from Texas A&M University, where she was also a member of the Multi National Champion Equestrian Team. Morgan is proud to be an Aggie and says that the values and skills she learned while at Texas A&M University are an integral part of her success today.
Morgan, along with her husband, Matt, and three children now reside in Aransas Pass. In 2016 Matt started his own business and has quickly become on of the leading companies in the lawn care industry. Morgan and Matt both strive to set an example for their three girls to follow their dreams and achieve their goals.
Whether you are looking to relocate to the area or resize to fit your needs Morgan is here to help. Call her today at (361) 230-9166.
Texas law requires all license holders to provide the Information About Brokerage Services form to prospective clients.
---