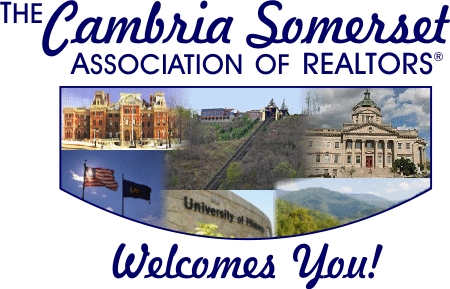 Quarterly Indicators for Cambria and Somerset Counties
Halfway through 2016, residential real estate markets are performing as
predicted at the beginning of the year. Sales and prices have been going up in
most areas, while the number of homes for sale and total months' supply of
inventory have been going down. Meanwhile, many sellers have been getting a
higher percentage of their asking price, and supply continues to struggle to
meet demand. The message may be repetitive, but it is largely positive.

New Listings decreased 13.6 percent to 483. Pending Sales were down 11.8
percent to 254. Inventory levels shrank 16.5 percent to 709 units.

Prices continued to gain traction. The Median Sales Price increased 6.4 percent
to $83,800. Days on Market was down 9.5 percent to 134 days. Sellers were
encouraged as Months Supply of Inventory was down 15.8 percent to 8.5
months.

The national unemployment rate recently dropped 0.3 percent to 4.7 percent,
but some states felt more of a pinch in their own figures. Similarly, the low
inventory situation is showing signs of strain in markets where there are few
homes for purchase. With an interest rate increase still in the cards this year,
combined with the American political landscape and global economic events, a
cool down could occur by winter. Presently, however, summery growth prevails
as many locales are reaching near-record prices not seen in more than a
decade.
Current as of July 10, 2016. All data from the Cambria-Somerset MLS. Provided by the Pennsylvania Association of Realtors®. Report © 2016 ShowingTime.
Annual Golf Social
CSAR will be hosting its annual Golf Social on August 9th.
This year's event supports the Children's Christmas Party.
Northwinds Public Golf Course at Indian Lake
BBQ lunch and dinner included
$100 per golfer/ $90 early bird by June 30th
Contact information: staff@csaor.org or 814-266-2206
www.REALTOR.org/RealtorBenefits
---
Be sure to visit youtube and check out Realtor® videos
Follow the link below to view The Voice for Real Estate
http://www.realtor.org/videos/the-voice-for-real-estate