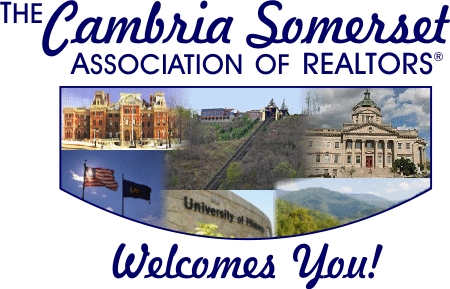 CSAR Annual Salvation Army Toy Drive and Treasure Tags
Once again this year CSAR will have a supply of Treasure Tags for children in Cambria and Somerset Counties who are in need of Christmas gifts and clothing. We will also accept new unopened toys and new clothing with tags to fill tags that have not been selected. Adult sizes are needed also.
Please drop off at CSAR by November 30th or call for us to pick up. We have lots of tags to fill.
03-2015 Quarterly Indicators
Activity Snapshot
+1.0% One Year Change in Closed Sales
+1.1% One Year Change in Homes for Sale
+6.2% One Year Change in Median Sales Price
With positive economic news coming from many angles, there are no imminent factors to prepare for beyond the typical seasonal drop-off. From the mouths of market-analyzing pundits, we are in the midst of one of the healthiest housing markets in 15 years. The one thing we were anticipating in September, an increase in interest rates, did not happen. It most likely will before year's end.
The overall tempo of real estate potential is experiencing a healthy number of omens. The job market has shown continual improvement, jobless rates are down, real average hourly and weekly earnings have been up and there has been good news in new household formation.
New listings increased 10.6%. Pending sales were up 3.5%. Inventory levels grew 1.1%.
Prices continued to gain traction. The Median Sales Price increased 6.2% to $88,500. Days on Market were up 12.5% to 126 days. Sellers were encouraged as Months Supply of Inventory was down 5.7% to 9.9 months.
Attention Home Buyers: Consumer Financial Protection Bureau implements new rules for closing.
The implementation of the Truth in Lending Act – Real Estate Settlement and Procedures Act Integrated Disclosure rule (TRID), which the CFPB calls the Know Before You Owe initiative, is expected to bring sweeping changes to the real estate industry. It will merge the existing HUD-1 Settlement Statement, Good Faith Estimate, and Truth-in-Lending disclosure form into two new closing forms: a Loan Estimate and a Closing Disclosure.
The new online tools—included in the CFPB's "Owning a Home" website—expand on a detailed brochure about buying a home that the CFPB introduced in March, and which the agency will require lenders to give to borrowers.
The additions to the CFPB website include:
a guide to each phase of shopping for and obtaining a mortgage,

a detailed worksheet to help households calculate the cost of owning a home and determine what they can afford given their other expenses,

and an interactive look at new the Loan Estimate and the Closing Disclosure—the two forms they will encounter after the new closing rules take effect on Oct. 3.
Content Courtesy of National Association of Realtors
www.REALTOR.org/RealtorBenefits
---
Be sure to visit youtube and check out Realtor® videos
Follow the link below to view The Voice for Real Estate
http://www.realtor.org/videos/the-voice-for-real-estate