Ramsey Yeatts
---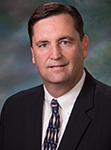 Ramsey Yeatts has lived and worked all of his life in the Pittsylvania County/Danville area. Originally from Gretna, Virginia, Ramsey is a graduate of Bridgewater College with a degree in Business Administration. In 2006, following a successful 17-year banking career, he entered real estate and became owner and Principal Broker in 2010. In November 2013, he made the decision to change the name of the business from Aaron W. Johnson Auction - Realty to Ramsey Yeatts & Associates, Realtors.
Ramsey serves on the Board of Directors for the Dan River Region Association of Realtors and also serves on various other committees. He served as President of the Association during 2014. He is a member of Mt. Hermon Baptist Church and the Athletic Hall of Fame for Bridgewater College.
With his banking knowledge, he is able to provide clients and customers direction on available financing options that will assist them in purchasing land, commercial property or their dream home. In every transaction, Ramsey provides the highest level of service and is committed to making sure every purchase or sale is a positive and successful experience for all parties.
Ramsey and his wife, Becky, along with their son, Ian, live in the Mt. Hermon community.
Contact Ramsey